About Us
We're so excited to announce that we are NOW OPEN in our brand new buildings for both Sales and Service. Volkswagen Cypress stand-alone SALES operations are now located at 11411 FM 1960 West, Houston, TX. We have more staff to help you, a bigger selection, and incredible deals to meet all your needs. Come visit VW Cypress today – WHERE GOOD THINGS HAPPEN!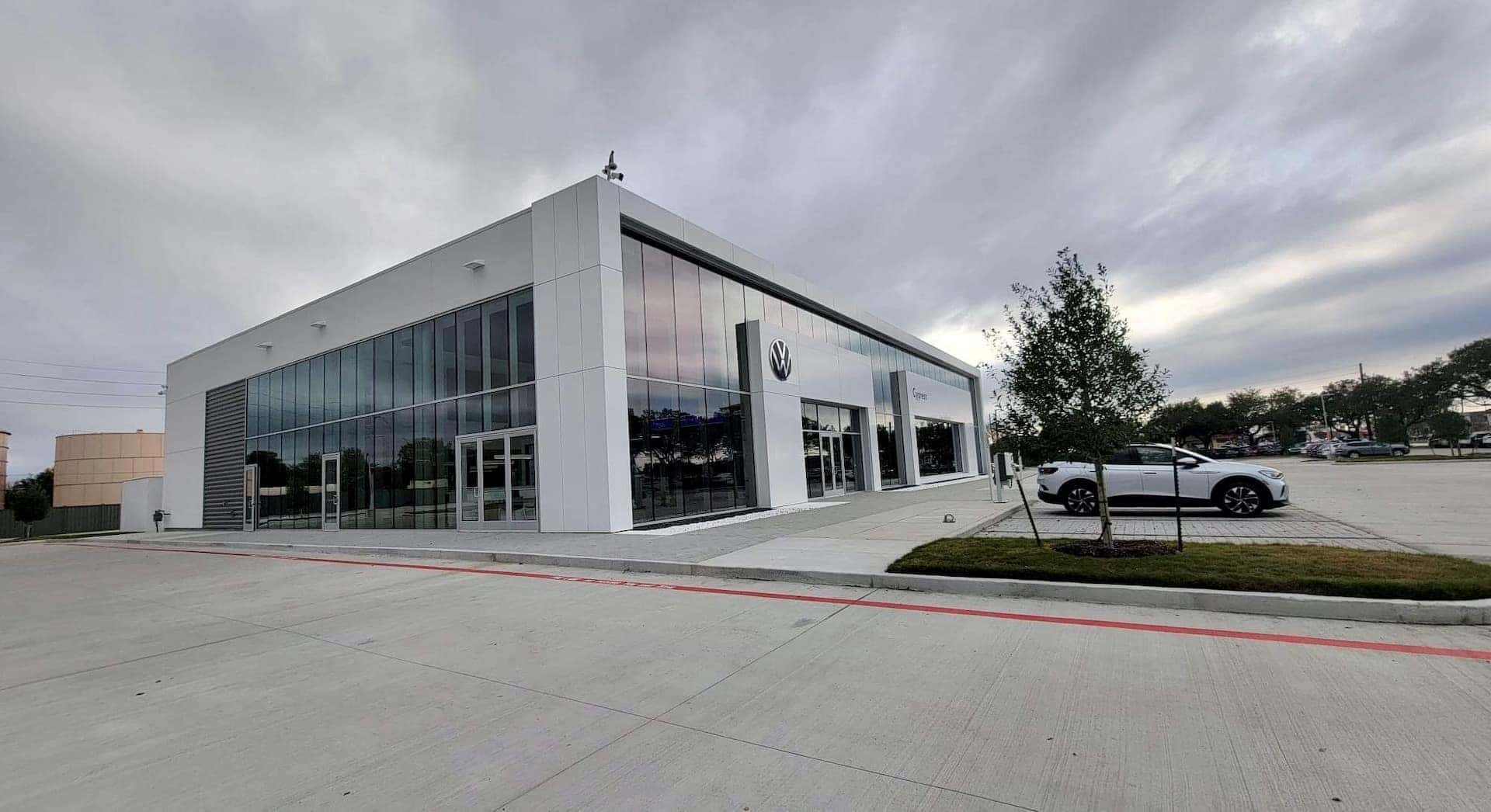 Our Volkswagen Cypress SERVICE operations are now located at 10828 Steepletop Drive, Houston, TX 77065, just a minute away from our sales building. Our new service dealership offers 46 bays, more technicians, and same-day service and repairs! Schedule your appointment at vwcypress.com/service or just stop by.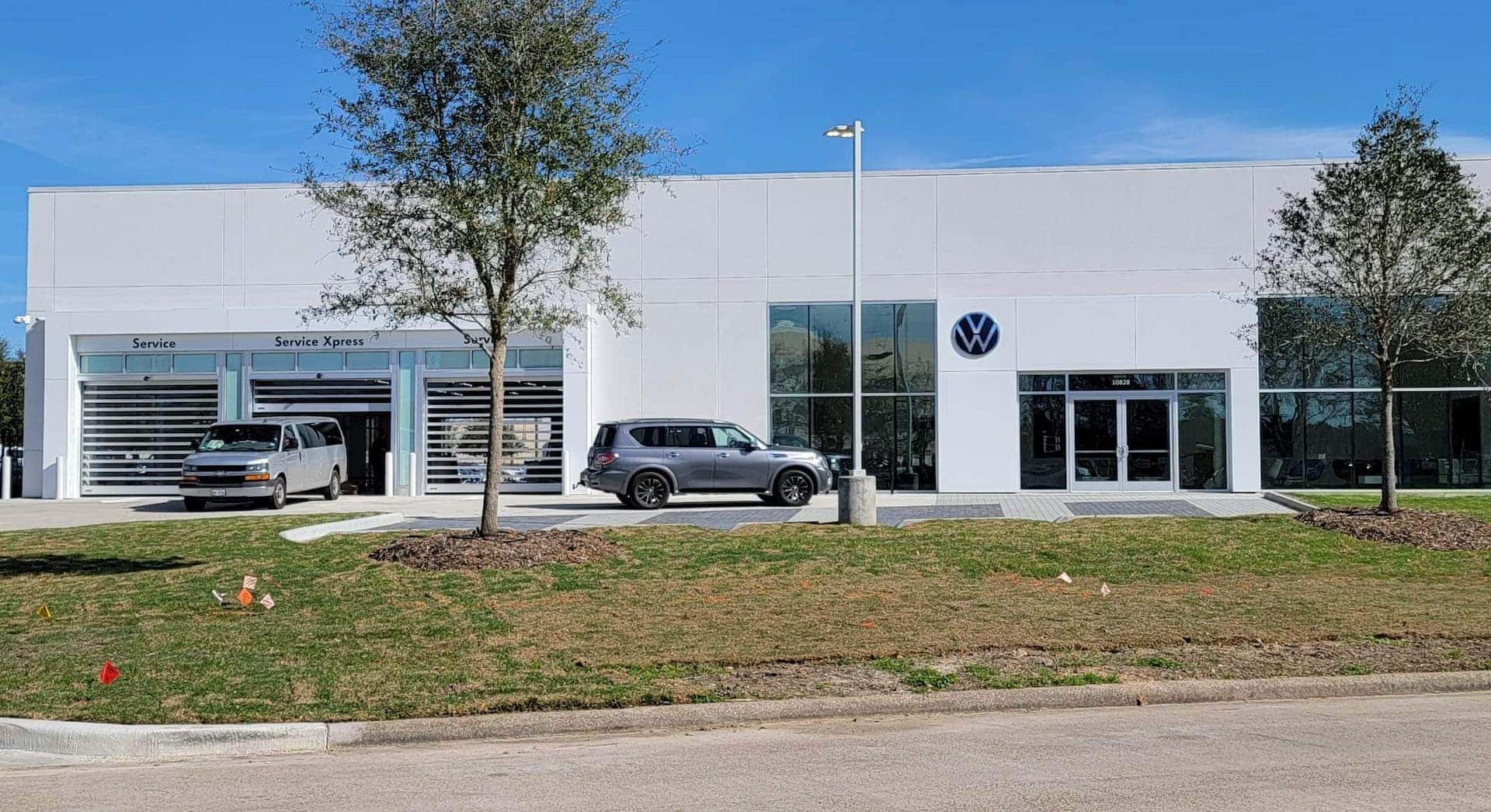 2021 & 2022 WINNER OF THE PRESTIGIOUS

WOLFSBURG CREST CLUB AWARD!
If you're looking for a fun, simple car-buying experience, look no further than right here at Volkswagen Cypress. We have a brand-new, beautiful Volkswagen dealership you will love visiting, the friendliest people, and the best inventory and prices around. That's what makes us the #1 VW dealer in the Houston area Market.
Award-Winning Dealership
We are a proud winner of the prestigious Wolfsburg Crest Club Award since 2021! Getting this award is no simple task. In order to be considered, a dealer must meet the very top-level standards in various areas. Though the expectations do include sales on new and certified pre-owned vehicles, the expected benchmarks for earning the award go far beyond sales. Requirements also include excellence in such areas as customer satisfaction indexes, facility excellence, Volkswagen Academy employee certification, operating standards, dealership financial statement and parts and service standards.
Why Our Guests Love Volkswagen Cypress
We are the fastest-growing Dealer in the Houston Area Market

And in the top 5 VW dealerships in the country!

(based on Volkswagen retail delivery reports from 2019+).

That means the best prices and inventory around!

We offer our guests our Good Deal Promise. Other dealers

over-promise and WAY under-deliver, but at Volkswagen Cypress

you get a Good Deal the First Time!

We offer a 3,000 mile Select Certified Warranty on Every Used Car.

Full Tank of Gas with Every New Car Purchase

We offer a Loaner Car Program for vehicles that are in service for an extended time.

Get a Personalized QuikVideo Inspection of Your Car with Every Service.

Our guests absolutely love this! You get to see what we see – and we'll let you

know if there is anything to be concerned with or aware of about your car.

Roadside Assistance Available for Every New Car Purchase!
Choose the Right Volkswagen for You
The first step in purchasing a vehicle with us is finding which Volkswagen model best fits your daily and long-term driving needs. Whether it's the classic Volkswagen Jetta that's caught your eye, we've got your VW ready and waiting at our showroom.
You can find the details on these models and more in our online inventory. You'll find interior and exterior photos, plus information on fuel economy, technology features, and more!
Check Out Your VW Financing Choices
Financing your next vehicle has never been easier than with our expert finance team. After you choose the right Volkswagen model, you'll be set up with our finance professionals who will walk you through the loan options that are best for your budget.
Because we have longstanding relationships with banks and lenders in the Houston area you can rest assured you'll be in the best hands when choosing a loan. Plus, we'll be there to explain all the paperwork before you sign anything.
You can also take advantage of our online financing tools, like valuing your trade-in or using our payment calculator. You can apply for a loan, so that we can process your information even sooner, and get you in your new Volkswagen in no time.
Keep Up with Maintenance
When you purchase a Volkswagen with our dealership, we want to do what we can to help you keep up with your vehicle's maintenance. That's why we have a state-of-the-art auto service center right on site.
Our highly-trained and experienced auto technicians can take on any issue you might have, from simple oil changes to more complex part replacements, and everything in between! Plus, scheduling service is easy with our online service scheduler.
And for our customers who like to take on their maintenance issues at home, we have a parts department for your convenience, as well. You can order parts online, and we'll have them ready for pickup in no time.
Learn More About Volkswagen Cypress
At Volkswagen Cypress, we take pride in providing our customers with high-quality Volkswagen vehicles, and would be happy to get you set up with a test drive in your favorite model today!
From the moment we walked into this VW dealership, we were greeted with courtesy and enthusiasm. Our salesman, Seth, was eager and happy to answer all of our questions. While we only came to browse, we ended up leaving with a great deal. In addition, everything was explained in an understandable manner. Thank you, Seth!
Always a nice and easy experience here. This time Cov and Kiki did a great job on getting us in what we liked.
Decovyn was outstanding! He took the time to ask questions about what we were looking for and what we wanted. Al the while taking detailed notes so that he could help find the vehicle we wanted for the price we wanted. It was far from anything we had encountered during our car shopping journey and it was a welcomed change! We have already recommended Decovyn to friends and family for any car needs, and will sing y'all's praises to anyone we know who is in the market for a new car!
Chris & Dominic were absolutely amazing! They were professional and efficient! I can't thank them enough for making our car buying experience so smooth and effortless!
Great service, Joskar helped us out with getting a new Atlas. We searched for a family vehicle for a month and we settled on the Atlas as the best vehicle for us.
Akiiki and Derek Braxton by far are the 2 best car salesman I've ever encountered! They go above and beyond what their job requires of them! Not only did they get me in my brand new car, but they got my son into his first brand new car! Thanks again to the both of you for ALL that you two do!
Oscar and his fellow employees were so accommodating and worked quickly to get my battery replaced and the system rebooted. I can't thank them enough
Just purchased a brand new 2023 Jetta from Seth. It was a great experience. He quickly answered my email request and was very knowledgeable about the vehicle. All the staff were super friendly and helpful. Dealership is brand new and very nice.
Chris recognized me even though I hadn't been back in over 8 months. He takes care of the customers. Even my interaction with another staff made me feel welcomed and thought of. Thanks Chris!!
We had a good experience with this dealership. PJ was great to work with and really went above and beyond to get us the EXACT vehicle we were looking for. He kept us well informed about the process of our vehicles timing and next steps since it was ordered and had to be shipped to the dealer. It was a pleasure working with him and I would highly recommend him. We had been to other dealerships and had spoken to other salesmen; they all seemed to not care about anything else but making the sale and trying to just pressure ...
Great customer service thank you so much for ur help
Wonderful. Such a pleasant and easy experience! So happy to be back in a VW from such a great group of people.
Professional salesman Ramy Masri was his name. After much back and forth my wife and I finally made a decision on the ride of our dreams. With Ramy we laughed, cried and made a purchase. He was not pushy and has a great heart for people. We are still in contact with him today, almost 30 days later. We purchased a 2017 Ford Explorer with all the bells and whistles and we are proud to do business with Volkswagen Cypress and our friend, Ramy Masri. Please get your ride here...they will take care of you and treat you like family.
That PJ PJ PJ PJ PJ PJ! One phone call to see if a vehicle was in stock & PJ went above and beyond to see what my interest and criteria was in store for my next vehicle. PJ respected my wishes in finding & supplying me with different options in regard to the exact vehicle in which I was looking for & not once pressured me to settle. It was absolutely no pressure & the process went smooth like butter. A phone call at 2PM to inquire & driving off the car lot at 5PM with the vehicle of ...
The technicians are very knowledgeable, and polite. The waiting area at the new service center is great, especially for long wait times.
I was very impressed with the level of service I received at this dealership. Cynthia Pérez was very friendly and knowledgeable, and she was out of her way to make sure I was satisfied with my purchase. I would definitely recommend this dealership to anyone looking to buy a new car.
Hector was amazing, he showed me multiple vehicles no matter how many I wanted to look at . His customer service is amazing and he kept me laughing the entire time , and he got me into a car that fits me . I appreciate everything .
I really did appreciate Oscar and him taking his time to keep me informed in what was going on with my car. His time and effort was superb. His customer service was excellent.
Gregory was very professional. I appreciate his attention to details.
Dominic was super helpful throughout the process!
I recently had a great experience at the Volkswagen Cypress service department. I took my car in for its scheduled maintenance, and the staff was friendly, courteous, and efficient from the moment I walked in the door. Here are some of the things that I liked about the service department: • The staff was friendly and helpful. • My service advisor was knowledgeable and explained the work that needed to be done in detail. • The work was completed on time and to my satisfaction. • My car was also washed and vacuumed. Overall, I had a very positive experience at the Volkswagen Cypress ...
Worked with my salesman Elijah was Kowlegeable, efficient, and gave me a great experience. Would recommend
(Translated by Google) ON SEVERAL OCCASIONS I HAVE TAKEN MY 2021 TIGUAN FOR SERVICE AND IT IS ALWAYS THE SAME GOOD AND FAST TREATMENT THANK YOU (Original) EN VARIAS OCACIONES E LLEVADO MI TIGUAN 2021 A SERVICIO Y SIEMPRE ES LO MISMO BUEN TRATO Y RAPIDO GRACIAS
Our family will only do business with VW Cypress. While I can't say the overall car buying process I something I enjoy, the staff here always go above and beyond to make it as easy as possible. Our sales associate, Javier Rodriguez, made it his mission to ensure that we were satisfied with our purchases... yeah 2 vehicles. When little things popped up after the sale, Javier continued to stay in constant communication to ensure ALL issues were resolved. Renee, in Financing, was an absolute gem and truly worked wonders to get us out in record time.
Service advisor Willy always goes above and beyond excellent service.
Everyone we came in contact with were extremely pleasant and helpful. The service was better than any Dealership i have ever dealt with in my 77 years of life. Thank you for being so advanced in technology to make dealing with VW so pleasant.
I have never considered a Volkswagen but a friend recommended that I look into it. One day on my way driving home I drove by a brand new dealership and decided to stop in and ask a few questions about trade and if I can set up an appointment. First of all the guys allowed you to walk in the door and not bum rush me in the parking lot like a lot of dealerships do which I liked. My sales person(Trae, ask for him when you go) was amazing from the jump. He asked me all the right ...
Everything went really with Cov as my sellsman. Everything was done professionally while I was still working. Didn't have to take off to haggle with a new car experience. He did it all. Will buy again from Cypress VW.
My salesman was the best yet. His name is COV. He was very nice and patient.
I received exceptional service! My experience was smooth and easy! I will definitely recommend others.
PJ and Bryan were a pleasure to work with! I came in needing a lot of help and they both went the extra mile to make sure that the deal fit my situation perfectly. You can tell they genuinely care about their customers. Thank you guys! I'll see you again when the time rolls around:)
Dereck was awesome and showed great customer service!
The best place to go and buy a vehicle cove and pj are the guys you want to talk to will make you feel stress free an make sure they get you something that you want and not just sell you a vehicle I have sent multiple people to them guys an everyone came out happy at the end great job!!!
Cov and Joskar are amazing! They listen and communicate real well! For the best sales experience choose them! They gave better experience than when I bought my car from clearlake volkswagen. Worth the drive for me!
I came for a maintenance service and from the moment I arrived, I got and excellent service!!! Thanks
Brandon Brown goes out of his way to keep customers up to date on service progress. He is friendly, knowledgeable and helpful. My service/recall was completed quickly and I was made aware of the status by Brandon each step of the way. This is the only dealer that we will allow to service our ID.4.
I had the good fortune of meeting Dominic Stigler a few weeks ago after calling to inquire about EVs. I was able to test drive the ID.4 and ID.4 PRO S and experience just about all of the features, including self-parking. Dominique had the full support of his management team with restect to specifications and purchase options (turns out the finance rate they qouted was better than that of my credit union). Everyone was very knowledgable and gracious... I'm just not quite ready to buy. However, the ID.4 PRO S is now my EV benchmark!
The sales team there really hooked us up with a new VW. Could not be happier with the purchase. Thanks again team!
Eric was a great help on buying my first electric car!!
Everything was awesome and done in a timely manner, and they were extremely informative and helpful
Me and my wife have been doing business with vw cypress for years and is always a great experience, from our salesperson(javier) to the financing manager everyone was really helpful and nice. We couldn't been any happier with our purchase
They had what I needed from the parts department and didn't charge me anything. AMAZING What customer service!
Akiki was very helpful in showing my family vehicles on your lot. He made us feel at ease buying a new vehicle. He was patient and helped guide us throught the different features offered.
Dominic and Papa were both a great help answering all my questions about the vehicle and setting up a test drive. The showroom is bright and welcoming and everyone is friendly. The purchasing process took a little longer than I would have liked, however overall I had a great experience.
Excellent experience dealing with Dominic Stigler (Salesman) and team. I bought a car here for the 3rd time in 2 years and I would continue to come back here to do business. If you're looking for high quality and a seamless experience, look no further. Visit VW Cypress! They will not let you down. This location's customer service is second to none.
Cole was amazing! great service and fast!
I had a great experience with my first purchase with Volkswagen. If you are in the search for a car ask for Sophie, she's helpful and very insightful, she made my purchasing experience easy and made sure I was well taken care of. Definitely recommend 10 out of 10, but make sure you ask for Sophie.
I came to VW Cypress in June mostly to browse and do research. I wasn't in a rush to purchase a car but felt I would be soon. Leo met me with a cool and understanding approach that allowed me to do just that, while also educating me on all VW had to offer. I left feeling impressed and NOT pressed, which was just what I needed. After researching several other cars of interest, I kept my eye on the Atlas Crossport secretly hoping I could find one with all my features in my price range. Fast forward to ...
Willie is awesome! He's such a lovely guy. Always a smile and always helpful.
Great customer service!! Once I got there I got taken care of right away. Received notification about the process of my car which I love! Chris was very friendly & attentive.
The team that help me was simply amazing. I would recommend everyone to buy from you guys. So warming, attentive, funny, listens to the customer needs. They are the best!
Nice and clean. Excellent service with a quick turnaround.
Everything was great. Customer service was excellent. And I recommend anyone to come her for they new or used vehicle. Albert was awesome. I am extremely happy with my new car. 🤩🤗😃
Everything went smoothly, timely and comfortable waiting area. (Although the coffee left little to be desired).
Loved working with PJ from Volkswagen Cypress!
The salesperson Mr Papa and Manager Mr Bryan were very helpful, professional, and courteous in the selling of the Cross Sport I purchased. They cleaned up the vehicle and have honored all the agreements we reached
Excellent customer service as always...very friendly, professional and helpful.
Andres and Akiiki made our purchase so easy. Both were helpful, knowledgeable, and patient. They weren't pushy as some salesman are, they took the time and worked with us on everything we needed on our purchase. We thank you and appreciate you. Highly recommend these guys.
Sophie was courteous and efficient in helping choose the right car!
Chris Alonzo is a fantastic person to work with on getting my serviced. Clean place, nice waiting area, and snacks. Friendly people and easy to talk to. Quick service.
Always Great service from Chris and Arnulfo!!!
Each service member was kind and efficient. I appreciate being greeted upon arrival and then provided with an estimated wait time. The wait time estimate was accurate as well. I'll be back for any future service needs.
New, clean, and super attentive.
Big shout out to Derek Soomro for his excellent customer service and sales skills. Also a shout out to Ronaldo Lewis for motivating me to give it a shot. Also the financial department for having patience with me and last but not least the receptionist for letting me know my registration and license plates were in right away. I look forward to being apart of the VW family
Willie was great to work with and kept me up to date on the repair progress.
Worked with Cov...awesome guy. Very knowledgeable and was able to get me what i wanted!
I've had an amazing experience with VW Cypress. Leo & Bryan the sales manager is amazing and was very helpful. Definitely recommend this location because they will go to work for you and make sure you get a really great deal. Highly RECOMMENDED!!!!!!!!!!!!
Could be faster service took 2hrs and 15 minutes
(Translated by Google) Very good attention, they are really very professional and with excellent customer service (Original) Muy buena atención, de verdad son muy profesionales y con un excelente atención al cliente
One thing I always look for in car dealerships is openness. From the beginning of car search, Cov was always upfront with me in running down the numbers and keeping me posted. Sometimes, he'd go past his working hours. I appreciated the exemplary service and fastidious efforts by him. He's just a great person in general. VW Cypress has it figured out and I'm glad I choose them. Totally recommend them. They gotta a pretty sweet waiting lounge too.
Took my vehicle in for service and they were very nice. I waited less than expected.
Very good experience we even bought a second car the same day
Isaac was a great help. Thanks Isaac for helping us get into our car. Rene in finance was wonderful and a pleasure to speak to.
I got service done here today would highly recommend WILLIE VELASQEZ! Best service advisor that I've had in all these years going through VW service!
The sale person really understood what we're looking for on our next purchase.
---