About Us
We're so excited to announce that we are NOW OPEN in our brand new buildings for both Sales and Service. Volkswagen Cypress stand-alone SALES operations are now located at 11411 FM 1960 West, Houston, TX. We have more staff to help you, a bigger selection, and incredible deals to meet all your needs. Come visit VW Cypress today – WHERE GOOD THINGS HAPPEN!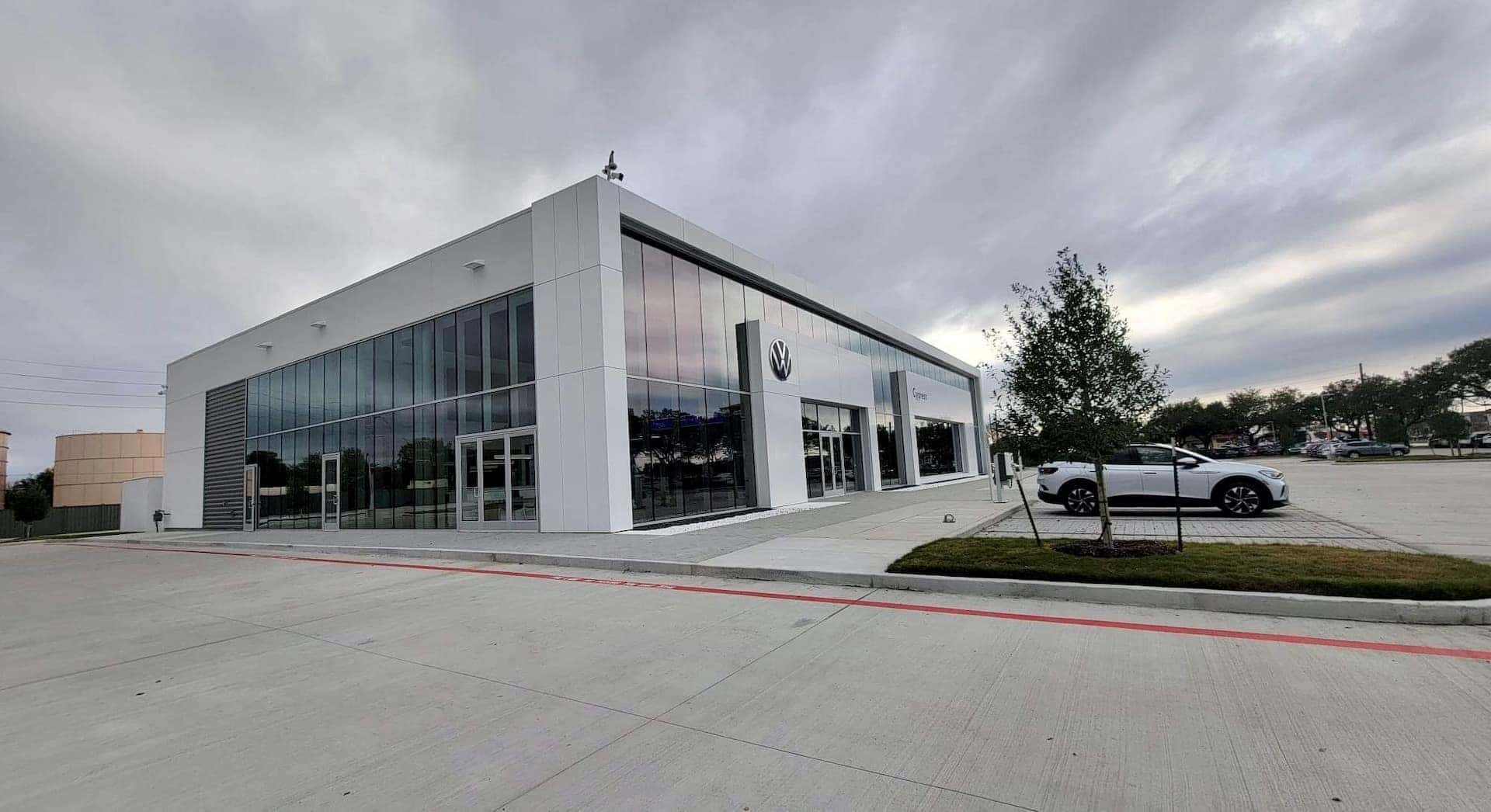 Our Volkswagen Cypress SERVICE operations are now located at 10828 Steepletop Drive, Houston, TX 77065, just a minute away from our sales building. Our new service dealership offers 46 bays, more technicians, and same-day service and repairs! Schedule your appointment at vwcypress.com/service or just stop by.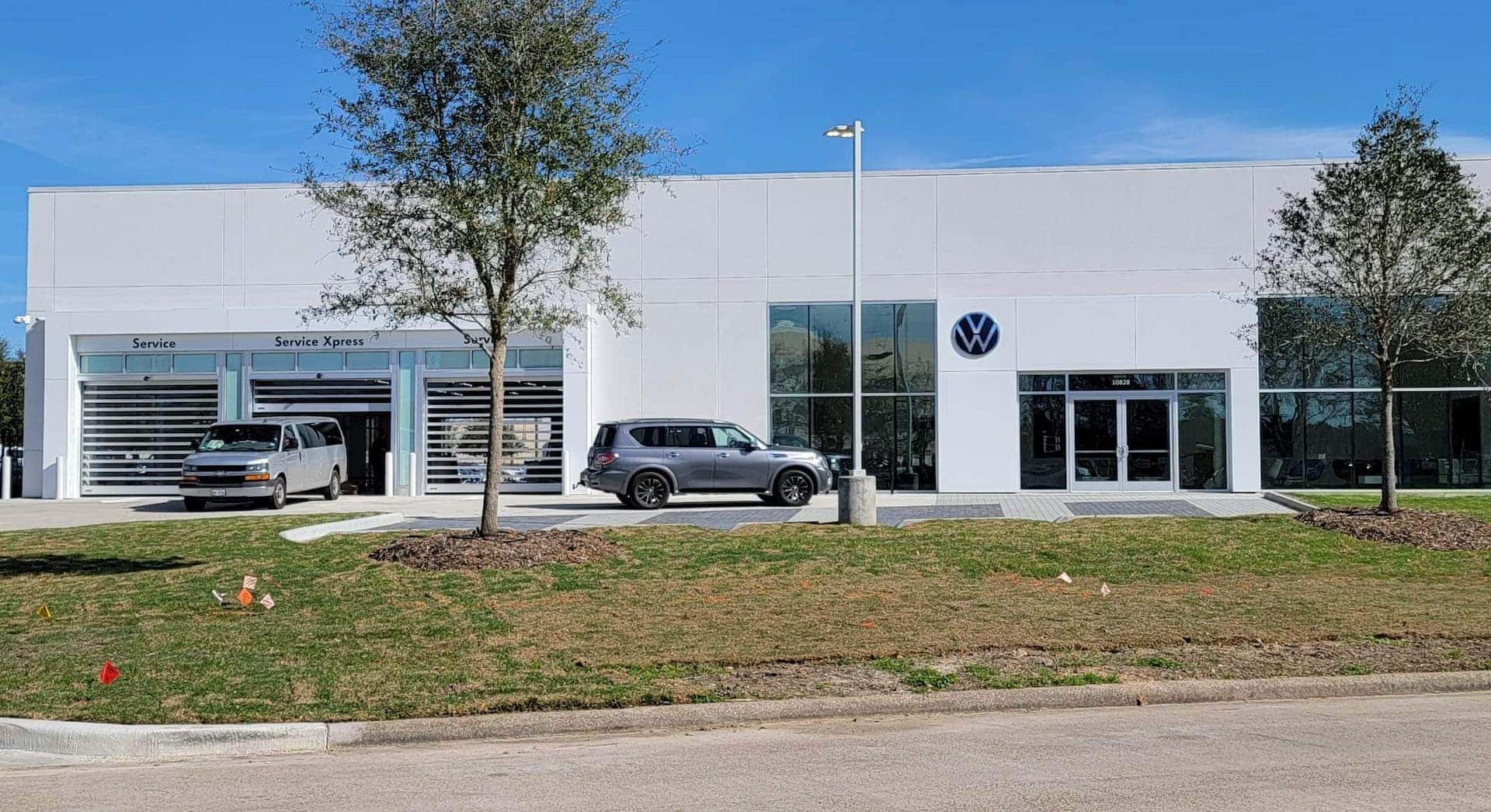 2021 & 2022 WINNER OF THE PRESTIGIOUS

WOLFSBURG CREST CLUB AWARD!
If you're looking for a fun, simple car-buying experience, look no further than right here at Volkswagen Cypress. We have a brand-new, beautiful Volkswagen dealership you will love visiting, the friendliest people, and the best inventory and prices around. That's what makes us the #1 VW dealer in the Houston area Market.
Award-Winning Dealership
We are a proud winner of the prestigious Wolfsburg Crest Club Award since 2021! Getting this award is no simple task. In order to be considered, a dealer must meet the very top-level standards in various areas. Though the expectations do include sales on new and certified pre-owned vehicles, the expected benchmarks for earning the award go far beyond sales. Requirements also include excellence in such areas as customer satisfaction indexes, facility excellence, Volkswagen Academy employee certification, operating standards, dealership financial statement and parts and service standards.
Why Our Guests Love Volkswagen Cypress
We are the fastest-growing Dealer in the Houston Area Market

And in the top 5 VW dealerships in the country!

(based on Volkswagen retail delivery reports from 2019+).

That means the best prices and inventory around!

We offer our guests our Good Deal Promise. Other dealers

over-promise and WAY under-deliver, but at Volkswagen Cypress

you get a Good Deal the First Time!

We offer a 3,000 mile Select Certified Warranty on Every Used Car.

Full Tank of Gas with Every New Car Purchase

We offer a Loaner Car Program for vehicles that are in service for an extended time.

Get a Personalized QuikVideo Inspection of Your Car with Every Service.

Our guests absolutely love this! You get to see what we see – and we'll let you

know if there is anything to be concerned with or aware of about your car.

Roadside Assistance Available for Every New Car Purchase!
Choose the Right Volkswagen for You
The first step in purchasing a vehicle with us is finding which Volkswagen model best fits your daily and long-term driving needs. Whether it's the classic Volkswagen Jetta that's caught your eye, we've got your VW ready and waiting at our showroom.
You can find the details on these models and more in our online inventory. You'll find interior and exterior photos, plus information on fuel economy, technology features, and more!
Check Out Your VW Financing Choices
Financing your next vehicle has never been easier than with our expert finance team. After you choose the right Volkswagen model, you'll be set up with our finance professionals who will walk you through the loan options that are best for your budget.
Because we have longstanding relationships with banks and lenders in the Houston area you can rest assured you'll be in the best hands when choosing a loan. Plus, we'll be there to explain all the paperwork before you sign anything.
You can also take advantage of our online financing tools, like valuing your trade-in or using our payment calculator. You can apply for a loan, so that we can process your information even sooner, and get you in your new Volkswagen in no time.
Keep Up with Maintenance
When you purchase a Volkswagen with our dealership, we want to do what we can to help you keep up with your vehicle's maintenance. That's why we have a state-of-the-art auto service center right on site.
Our highly-trained and experienced auto technicians can take on any issue you might have, from simple oil changes to more complex part replacements, and everything in between! Plus, scheduling service is easy with our online service scheduler.
And for our customers who like to take on their maintenance issues at home, we have a parts department for your convenience, as well. You can order parts online, and we'll have them ready for pickup in no time.
Learn More About Volkswagen Cypress
At Volkswagen Cypress, we take pride in providing our customers with high-quality Volkswagen vehicles, and would be happy to get you set up with a test drive in your favorite model today!
(Translated by Google) Excellent personal attention, very nice place (Original) Excelent personal atention, very nice place
Albert was very helpful and patient when it came to selling me a car. The hospitality at the dealership is phenomenal and everyone greets you with a smile.
Great experience and Bryson Haggard was great to work with!
Excellent sales experience with Leo, management and finance. Leo was courteous and listened to what I was seeking. Provided several options which was a major plus. Enjoying my new Atlas Cross Sport!
Anthony was super knowledgeable about the car I was interested in. I left the same day in the perfect car that has everything I was looking for. He was very personable and spent the whole day making sure we left satisfied! Would highly recommend working with him!
Anthony and Bryson did a great job. They made me feel welcomed and comfortable. They were able to get me what I wanted without any issues.
Good buying process sales man was helpful.Thank you Javi for putting up with me! lol
The dealership had plenty of cars available to choose from. Great customer service!
No complaints salesman was helpful and friendly. Did not feel pressured or forced.
Communication was excellent with our specialist. I truly recommend this site.
great customer service and nice waiting longue
Great place, talk to Chris or Jeff in parts.
Smooth and easy. Used my tire and wheel coverage and got a new tire at no cost to me
Awesome people! I went in not certain of what I wanted but Grant was able to pick a couple of options for me, listened to what I liked or didn't like, and was very helpful narrowing down a vehicle. The service here is different from other dealerships- instead of walking around in the hot Texas weather, we were able to wait inside while he pulled the cars up for us to look at and drive. Grant was very knowledgeable about the vehicles as well! Paperwork and finance took a little bit longer than expected but I was able to ...
Papa Is such an amazing person, he over exceedingly went above and beyond to help me get the vehicle I much so desired.
Loved my salesperson Ericks, he was super helpful, informative, friendly, and professional. I would definitely come back and do business with him again
I came in with a strict price point and certain vehicle in mind. Not only did I receive great communication prior to coming into the dealership but the customer service while I was there was phenomenal! Sales was willing to work with me and finance left me leaving confidently and with great knowledge on my purchase. The only thing I would suggest is providing a bit more alone time when one is making a decision.
Great service. They worked with me to get a great deal. Definitely recommend. Keiyon was super helpful, and the finance rep was extremely friendly and made the signing process painless.
Our experience was easy and without any issues. Our salesman, Chanse, listened to our needs and wants, and did everything to get us into the vehicle we desired.
Outstanding customer service.
They were very willing to help in a personable way
Keiyon was a wonderful salesperson. He was very helpful throughout the whole process. He also followed up with me after my purchase. Will be back for any future vehicle purchases.
The waiting room was unbearably cold. The multi point inspection sheet was not included with the paperwork. As always, the driver's seat was pushed all the way forward, making it impossible to get in.
Akiki is the best Salesperson ever! The Volkswagen Cypress Staff were very professional, knowledgeable and very kind. The best and fastest car purchasing experience I've ever had!
David was great. Helped me get everything warrantied. It did take VW forever to approve the repairs, but as soon as they were approved, David had my car done quick! Car was clean after the job and drive like brand new!
New facility is amazing! MAKE SURE TO COME AND SEE MY BOY PJ!!!! He makes dreams come true! His service is TOP TIER! 5 Stars! Tell him Adrienne sent you 😉2023 me please!
The service was professional and the personnel was polite.
Excellent service from Willie Velasquez and the rest of the staff. Coffee should be improved as it smell really bad.
Akiiki,Danielle, and Wes are beyond professional. From the time I walked in I was greeted as if I was family and it felt that way the entire time ans even after I left. They truly make sure they take care of you and they really do work with you and they are very helpful and HONEST! I went in looking into a Certified pre-own and left with a brand new 2023! Thank y'all so much it was truly a pleasure and a blessing working with you all!
I had a great experience with Cypress Volkswagen. My sales Representative Anthony went above and beyond showing great customer service. He answered all my questions and concerns and made sure we received the best deal possible. I love my new 2023 Atlas Cross Sport. I highly recommend this dealership and make sure you stop by and see Anthony!
Anthony Jarrel gets 5 stars!!!! He was very attentive to what I wanted in a vehicle and found the perfect match for me👌🏽 Magnus (VW Atlas) and I are very 😊 Would I refer Anthony.... absolutely!!! When you're in the market for Magnus' cousin (VW atlas) hit up my boy Anthony, he's 💯!
Everything was taken care of rather smoothly, but I did feel the bait and switch. I was assured over the phone prior to coming in that if I bought the car, even without a down payment, my monthly payments could be kept around $400/mo. This was not the case. The payments ended up $549 a month, considerably more. Sales managers should not make claims they can't back up.
Jason Koontz gave me the best customer service I've ever received! He always makes my experience with Volkswagen amazing.
I met a very professional, responsible, patient, and caring consultant, which is great! Thank you so much
PJ was great, very helpful and professional!!!
We had a great welcoming and they assured us, they were going to do the best to make us happy and a easy going process,of course little intimidating but a lot of comfort,for me the let down was the finance team VERY disappointing; But as soon as Mrs. Renee took over and she went over it again she stayed SUPER late with us till we finished. She was so excited for us. Mr. Monik as a new team player he was great he knew how to assure me that it would be fine and were going to drive ...
Mr. Leo did an excellent service
My representative really got me in and communicated well about my services needed for my Atlas.
Dealing with Anthony was such a pleasure. He didn't come across as pushy at all. He listened to our needs and aimed to please. I will definitely buy from him again.
I had a great experience and it was very quick. I knew what I wanted, but Akiiki and Mason made it happen. Financing was a breeze and I came out feeling like I am receiving an even better value than expected.
Brandon did an awesome job with both my vehicles and getting them out in a reasonable time. I usually go to West Houston for service although I live in Cypress, I decided to try the new facility and was impressed with the same tech that West Houston VW uses and the service was top-notch. If this continues then I can find myself using Cypress VW and buying cars from there instead of the other VW dealers.
It was easy to get an appointment and they took care of my car quickly. Brandon is always very kind, patient, and professional.
Great service and presentation of offers!
The waiting area was nice. The phone conversation I had for the appointment was easy, but when I showed up the appointment was not in the system. I was still taken car of, but the idea of the reservation no longer being there was worrisome for a moment.
My sale rep keyon was really professional and was nice and kind and explained everything too us as we were looking at vehicles the rest of the staff was so friendly.
I chose this rating because at this car dealership they made the car buying process easy and hassle free.
Thanks alot to Mr Willie Velasquez and Alfonso Garcia much knowledge Highly recommend
My new dealer for life. Absolutely the best salesmen and staff I've had the pleasure of dealing with in all my years of car purchases.
Had an appointment with one service advisor but he was unavailable so had to see someone else. That worked out well because Akiiki was very knowledgeable and personable.
From the moment I walked in Robert was friendly, attentive and helpful! For me it's not only the quality of the purchase, it's equal parts the customer service and everyone I delt with at the dealership was phenomenal!
Salesman knows what he's selling
Brian made sure I knew my selection of cars and helped me get into the vehicle I set my eyes on. The process was super quick and made sure I did not have any anxiety through everything.
Chanse gave us the best service!
By FAR THE BEST customer service ever. This is a team that not only works well together but each one of them took their time in answering questions in a very friendly way. It was such a stress free car buying experience. We could not even have dreamed up this kind of car buying experience! They are truly the best!!
You need more models. GTi & GLI & Mk8Rs on the dealer
I was very satisfied because they managed to solve the mechanical problem that my car had. I always ask to be attended by Willie is excellent. In general they are a good team. Congratulations!!
Personally I give this Dealership hands down 5 stars. If you go to Cypress Volkswagen Dealership, ask for : Anthony Jarrel! This guy here is calm , patient , and tries his best to make your time count. Anthony even came back on his off day when I was due to pick up my car to make sure everything was on point for me! He and his Manager got me what I wanted , where I wanted. Remember ask for Anthony Jarrel! D.A.
The sales team was very informed and knowledgeable of the vehicle in question, very professional as well. The entire sale time could be quicker.
My experience with Volkswagen was exceptional! Not to mention My salesman Brian Williams. I didn't feel pressured not one bit, he made sure I was well taken care of, and answered all questions I had. Quick process, and left with the car of my dreams. Looking for a car? Ask for Brian! You will leave there happy ,and satisfied. I absolutely love my new car! My experience was definetly a 10/10.
Very attending and helpful. I had David as my advisor and he was very helpful
Papa Faye and the rest of the team were a pleasure to work with. We live in Oregon and made the deal over the phone after he let me know they had just the car we were looking for, a 2023 Golf R with the 7 speed dual clutch automatic. (because my wife can't drive stick) We received the car today as it had to be shipped. After I found a shipping company, Papa Faye took care of the rest and the car arrived in immaculate condition. We are very much appreciative of the care that was given to this purchase ...
Jacob is a very good salesman will be referring others to him
Brian Williams was outstanding! I bought my niece's first car at Volkswagen Cypress. He was very professional and answered all of our questions! Thank you Brian, my niece loves her new Taos 🙂 I will recommend all of my friends and family to Volkswagen Cypress for their next car purchase!
Brian Williams was a great help, he made my first car purchase easy, & quick. If you stop by in make sure to go to him. You definitely will not regret it. I love my car, thanks Brian!
Brandon is the best! I visited the service department to have my side view mirror looked at and just an overall vehicle evaluated. However, I had a doctor's visit scheduled at the same time. Brandon greeted me with a smile, arranged for me to be shuttled to/from my doctor's appointment, emailed me the results from my evaluation, and sent me on my way with a sun shade for my Tiguan. This is my home Volkswagen dealership!! Thank you, Brandon!!
Great Experience! Ibra and Chanse worked out a fantastic deal! Great customer service all the way around!
This was the best car buying experience I've ever had - a large part was my salesperson, Derek, but every person at Volkswagen Cypress that I interacted with was awesome. Derek listened to what I wanted, asked my openness to compromise, and then upon hearing that I didn't have much wiggle room worked to find me what I wanted. He was actually able to find the Golf R in the color I wanted and manual transmission that day - totally wild as I went in to get on a list to eventually maybe get one in 6-months time. ...
David, my service advisor, was helpful and handled everything professionally. Service was done quickly and communication was above average.
Akiiki (the salesman) is very professional, honest, direct and help us to complete this process with no stress
We had a great experience with Eric-friendly, knowledgeable, accommodating!
My daughter found a car she wanted so I went to look at. The purchase was extremely easy, staff was very fair about selling price and trade in value. Overall an incredibly easy experience.
Service was super amazing . I was able to pull 2 cars out the lot. Great place , great service, great people. Major shout out to Decovyn Gaines
Quick and professional service!
Brandon was great with getting my Atlas in and keeping me informed the entire time.
I prefer this location over some of the other Volkswagen locations. They always communicate thoroughly and have the car done when they say they will which I appreciate.
Excellent service as always coming to the shop.
---