Why Join Us
Join a Winning Team at Volkswagen Cypress
Welcome to our Employment Opportunities page! If you're looking for an opportunity to be appreciated and involved in your career, your search is complete. We have a great history of providing excellent career opportunities for sharp, energetic people.
We are always looking for qualified:
New vehicle sales consultants
Used vehicle sales consultants
Service technicians
Service valets/porters
Accounting/Administrative personnel
Lot attendants

About Us
Volkswagen Cypress is part of the Feel Good Auto Group, which owns and operates four successful VW dealerships in three major metro areas of Houston, Kansas City, and Salt Lake. Feel Good Auto Group of dealerships is owned by Tom and Susan Watkins since 1989. In 2008 Tom started working with Jeff Davis and appointed him as the leader for their dealership – Volkswagen SouthTowne – as well as subsequent stores. In 2012 Tom and Jeff were awarded a new point and built Volkswagen Lee's Summit in Kansas City in the Fall of 2014. Due to the huge success of their two stores, Volkswagen encouraged Tom and Susan to purchase two struggling Volkswagen dealerships in Houston. Feel Good Auto purchased and reopened Volkswagen Clear Lake and Volkswagen Cypress in Houston in the Summer of 2019.
Under Jeff's leadership Volkswagen Cypress is currently the fastest-growing Volkswagen dealership in Houston, #2 in Texas, and currently ranked as one of the top 5 VW dealerships in America.* Having outgrown their current location, Volkswagen Cypress is opening stand-alone Sales Dealership and a stand-alone Service location just five minutes from their current location in Fall of 2022.
*Based on current YTD VW retail reports.
Our Why / Purpose
At Volkswagen Cypress we start with our why in everything we do, whether it's a Monday meeting with all our department heads, a morning sales huddle, a service team check-in, or a Friday sales meeting. Our WHY is that we truly want to improve our guests' quality of life through their interaction with us. We eagerly protect our team and take pride in helping each other reach their goals and purpose. Our business philosophy is that if you treat your employees and your guests with respect and honesty, success will follow.
Mission Statement
GOOD THINGS HAPPEN at Volkswagen Cypress because we refuse to let negativity through our doors. Our positive atmosphere is like a force field that protects every employee and every guest.
To our guests: It is our standard to provide employees who are friendly, knowledgeable, honest, and sincere. We pledge competitive prices and a great selection to achieve the highest levels of customer satisfaction.
To our team: It is our aim to provide a positive dealership environment so our energy can be felt in all your dealings with each other and our guests. Volkswagen Cypress expects the highest levels of integrity and believes in doing the right things for the right reasons. We have a good sense of humor; making us easy to work with and enjoyable for our guests to be around.
To our company: We are a successful company where employees love to work and our guests love to do business. This means we will accept nothing less than being both #1 in volume sales and #1 in customer service in every market in which we do business; thereby improving the quality of life for everyone involved in our culture.
Recognition and Awards
Volkswagen Cypress strives to be a fun, rewarding place to work. We have weekly sales meetings, daily huddles, and monthly gatherings where we focus on awards and recognition. One example of this is that each month we hand out a Rhino Award to an employee who has shown themselves to be resilient, strong, and a great leader. The way we see it a Rhino is strong, aggressive, thick skinned and is not afraid to make a mistake. And if they do, they recover quickly. In contrast, a cow hangs out in a herd not doing much, basically watching life pass them by. A Rhino Award is a highly-prized award throughout our dealership. We love our rhinos!
Another form of recognition that we use is a Bonus Board program for our sales team where we showcase the employees who have reached their goals and get the chance to achieve an extra bonus/income for the month. Our Bonus Board identifies the top performers in all categories and pays out the top 4 places. The sales consultants are ranked in 12 different categories so we focus on those who are working hard and progressing, not just top sellers.
Finally, we are developing a recognition program that includes a gift and pin for reaching certain milestones in your tenure with us. Our employees will be recognized at end of the first, third, fifth, seventh, and tenth year with us!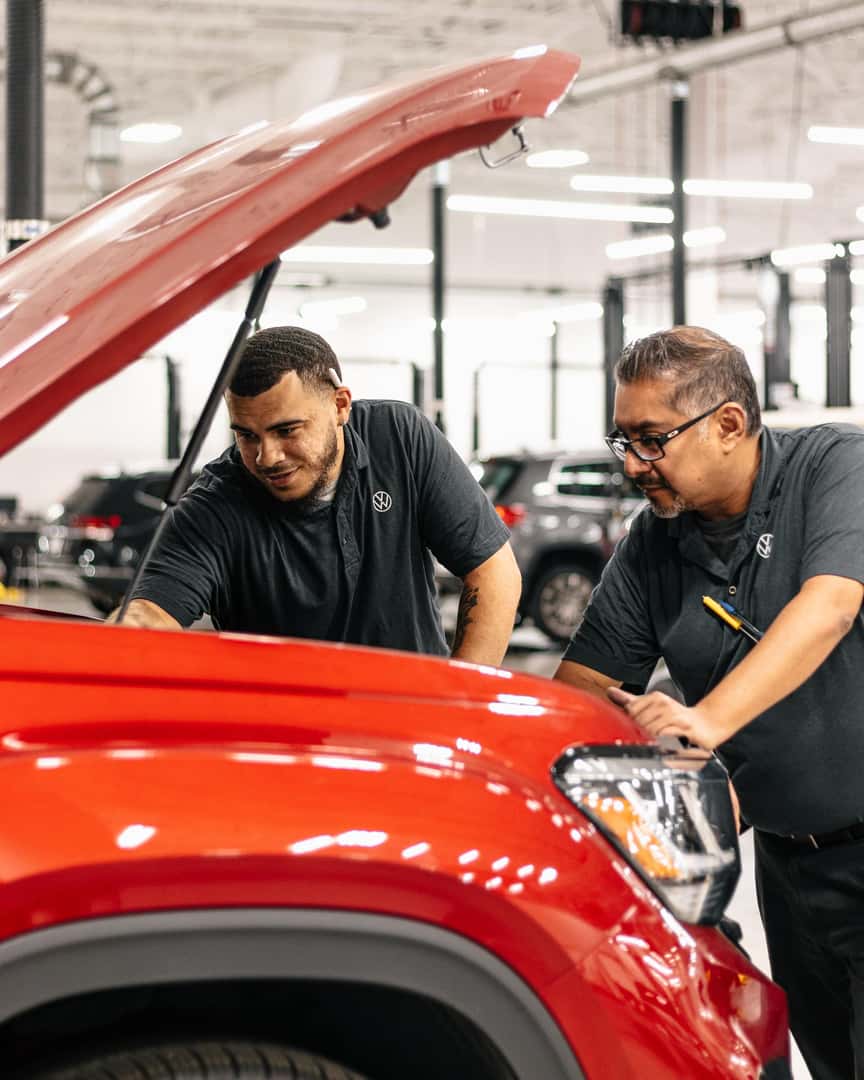 Career Development
We have a solid mentoring program for both our sales and service departments at Volkswagen Cypress. New hires in our sales department are assigned a mentor to help provide guidance, motivation, support, role modeling, assists in setting goals and identifies opportunity. A sales mentor will develop, coach, and encourage success habits and a positive state of mind, while promoting and executing our feel-good culture aligning with the high values of our mission statement. In our service department, a seasoned Master Technician is paired up with a newly-hired apprentice technician to help train them until they have developed the skill needed to be assigned repair orders on their own. At Volkswagen Cypress we aim to train our technicians the right way and incentivize them to stay with us long term.
How are the Feel Good Automotive Group dealerships so successful? This is a question the dealerships get all the time, and the answer is quite simple. Tom and Jeff have implemented something called "State of Mind Selling" in all of the dealerships. Put simply, it means that we conduct a temperament survey during the onboarding process of each employee to better understand the temperament of each new hire. From there we train and develop each team member to understand their own temperament and those of everyone around them. During the sales process, they then intuit the temperament of each guest and modify their interaction with them to match their energy, creating harmony and cooperation throughout their experience. Executed correctly, this unique sales approach allows our sales and service advisors to work in complete balance with their team members and guests to achieve their common goals.
The effort behind this takes an extremely high state of personal awareness, but has huge benefits, and explains how these four dealerships have been able to be so successful, so quickly. In order to identify basic temperament types, we use a modified version of Management by Strengths, (MBS) throughout our company. So not only do our client advisors identify their temperament tendencies, but our accounting, parts, and service departments do as well which hugely aids in the balance and cooperation of our entire company.
In addition to our temperament training and development, Volkswagen Cypress incorporates goal setting and success training into every department of our dealership. Developed from eLeader Tech, our Feel Good Automotive Group ETS training program helps each employee identify their WHY and tap into their motivations to help develop a balanced, well-rounded, driven, and successful team member. Prioritizing autonomy, this program is fully self-directed and personal, helping each employee identify, set, and achieve their financial and personal goals.
Interview and Onboarding Process
Applicants are encouraged to submit a resume highlighting employment history, skills, and qualifications. Applicants can plan on hearing from our hiring team within 5 business days from the time an application is submitted. An applicant will be notified if they've been selected for an in-person interview or if we need any additional information to aid in our hiring decision. Once an applicant is selected for an interview, they may expect to be part of three different interviews. Depending on the position, a candidate will meet with at least two manager / store leaders before receiving a response on our decision.
Once an offer is made, each candidate will be required to undergo a background check and a drug test.
Our comprehensive onboarding process encompasses the first 90 days. During this time a new hire will complete new-hire paperwork, undergo orientation, be assigned a mentor, begin training, and be given access to software. We have a 30, 60 and 90 day review to help with new hire progression and retention.
Benefits
In addition to all of the company culture and training opportunities, the Feel Good Automotive Group offers the following benefits:
Paid Training
Ongoing success training and career development
Paid Time Off!
Opportunity for advancement and growth.
Yearly matched bonuses
Medical Insurance
Dental Insurance
Life Insurance
Vision Insurance
Disability Insurance
401K
Coffee and snacks
We work hard and play hard!
Work/life balance is important to us all
We are a diverse and equal-opportunity employer