Surplus Sale! 2024's are hitting our lot daily - save THOUSANDS on remaining 2023's while supplies last, get as low as 3.9% for 72 months OAC, or chose of our low leases! View Now
What to Understand About Volkswagen Wheel Alignment
Vehicle alignment refers to the alignment of the wheels in relation to each other, the vehicle frame and body, and most importantly, the angle at which they maintain contact with the road. The alignment assures the best balance of vehicle performance regarding sheer power, handling, and fuel efficiency. Factory prescribed alignment adjustment provides the best balance of each feature as suited for average daily driving. At Volkswagen Cypress we specialize in alignment services.
Wheel Alignment Services
Two-Wheel Alignment – Also known as a front-end alignment, two-wheel alignment is generally performed on vehicles with a solid rear axle; it involves inspecting and adjusting the camber, toe, and caster angles on the front wheels.
Learn More
Four-Wheel Alignment – Vehicles with independent or semi-independent rear suspensions will need to have the camber, toe, and caster angles inspected and adjusted on all four wheels; this is also called an all-wheel alignment.
Learn More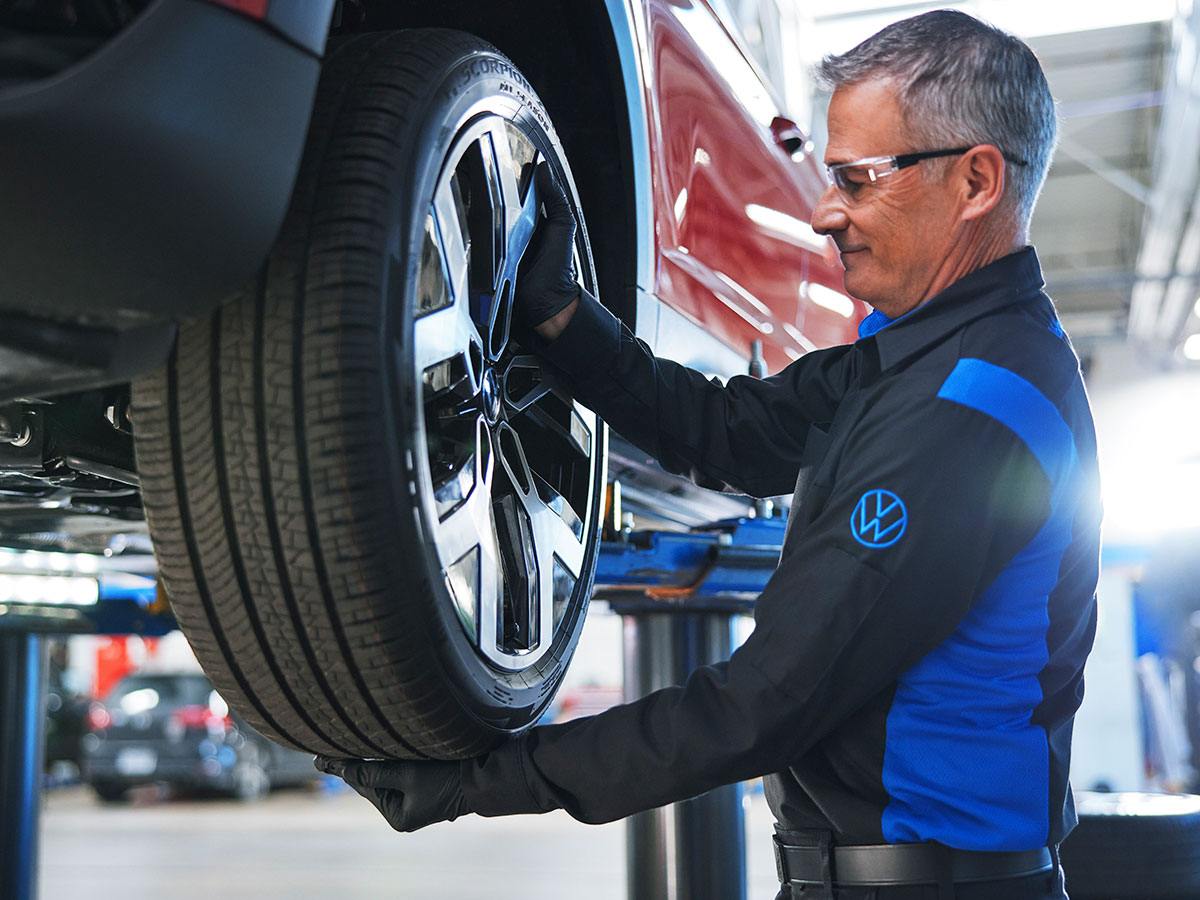 Wheel Alignment Inspection
Although such tweaks can be made because of adjustable alignment systems, such adjustments are actually a side effect rather than the reason. The real reason alignments have adjustable features is because they are part of the vehicle's suspension system, built to absorb shock safely rather than transferring it to the axle which would be far more expensive to repair after years of wear. The alignment is designed to get knocked out off place as a means of absorbing shock, and after a certain amount of time or mileage be adjusted back to the factory settings.
Symptoms of Bad Wheel Alignment
With the examples above about race cars and off road driving, the driver is already aware of the common symptoms poor alignment will cause with bad gas mileage and premature tire wear. For the average driver, gas mileage won't be easily recognizable other than anecdotally, it might seem like the car needs refueling more often than it should. More noticeable is how the vehicle will veer left or right when the steering wheel is centered for driving down a straight road, forcing the driver to constantly make small adjustments and corrections to their course. That might not seem like much of an issue, but it is a safety issue and can become tiring over time.
Where to Find Wheel Alignment in Houston, TX
At Volkswagen Cypress in Houston, TX serving the local areas of Cypress, Kohrville, Jersey Village, and Cinco Ranch, our fully equipped shop is staffed with trained and certified technicians to adjust your vehicle's alignment or handle any other maintenance and repairs which may come up. Walk right in or give us a call to schedule an appointment and we'll take car of your car so you can get back on the road secure in the knowledge it is achieving optimum performance and safety.
Search
Find Your Vehicle
Search By Keyword
Search By Filters
Saved
Saved Vehicles
SAVED VEHICLES
You don't have any saved vehicles!
Look for this link on your favorites:
Once you've saved some vehicles, you can view them here at any time.
Share
Share This
Choose How To Share: